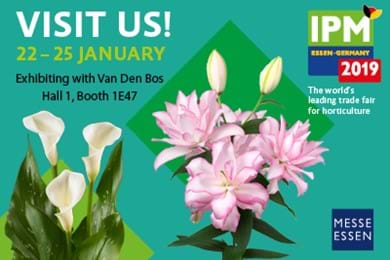 Join us at IPM Essen 2019
Flamingo Holland will be present again at the IPM Show in Essen, January 22nd through the 25th. Together with the parent company Van den Bos Flowerbulbs will we at Hall 1, Booth#... The location will be a corner spot this year but it is next to the old location of where we were the last few years. 
We will have the product team of Van den Bos there to answer any of your questions. 
Jonathan Cooper and Robin van der Schaaf will be present as well representing Flamingo Holland at the show. 
Please come by and see us so we can tell you all about our Lilies, Freesia, and Callas. We have several new introductions to talk about and several of them will be shown in our booth. Not on display but check in with Jonathan and Robin about possibilities with the Garvinea, Pot Alstroemeria and other perennials from bareroot and tissue culture. Looking forward seeing you in Essen!