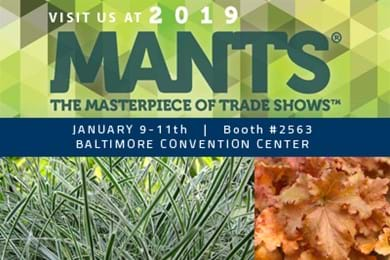 Visit Us at MANTS 2019
Make sure to stop by Flamingo Holland at Booth #2563 (January 9-11th) at the MANTS 2019 show in Baltimore Convention Center in Maryland.
We will be featuring the following line of products and will be available to answer questions about:
- New introductions and proven varieties of Lily, Calla and Freesia bulbs for seasonal or year-round production
- Extensive perennial bare root availability
- New introductions of TC perennials available as TC and liners: Alstroemeria Little Miss Zoe, Heuchera Gojiberry and Ficinia Ice Crystal just to name a few. Please contact us for the complete listing.
Event Location:
Baltimore Convention Center
One West Pratt Street
Baltimore, MD 21201
2019 Show Hours
January 9 & 10, 9am-5pm
January 11, 9am-2pm