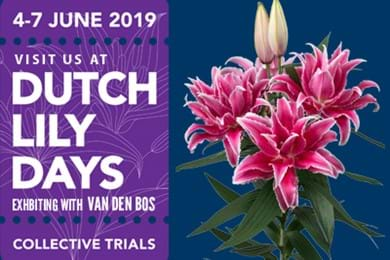 Dutch Lily Days 2019 (June 4th-7th)
ARE YOU READY TO ENJOY A SEA OF LILIES?
Just two more months to go before our entire greenhouse will be filled with blooming lilies. From 4-7 June the annual Dutch Lily Days will take place once again.Flamingo Holland will be exhibiting with out parent company, Van den Bos Flowerbulbs. Our quality team is working super hard to get the greenhouse blooming when you arrive. We are excited to showcase an extensive current and new lily assortment in some 4200 lots.
We pay special attention on the new varieties, we plant them in the same rows for easier viewing. Among many exclusives and semi exclusives, Van den Bos delivers an exclusive ROSELILY line, these double flowered lilies are a true innovation in the lily industry. Another highlight is Touchstone; we have this beautiful red O.T. lily year-round available.
In addition, we are delighted to show you our special potted plant collections: calla, freesia, and lilies.
Van den Bos Flowerbulbs team is looking forward to welcome you in the test greenhouse. Our specialized staff will be ready to assist you and inform you of all background information. We offer a special warm buffet and our Lily Café is open for you to enjoy a nice cup of coffee or tea during the entire week. We made some improvements thanks to your feedback, so we will have more sitting area to enjoy your lunch.
Our greenhouses will be open for your visit all day long, please contact your account manager for more detailed information or an appointment.
We are closing the DLD event on Friday June 7th with our annual "Happy Hour" at 16.00 until 19.00.
Our Greenhouse is located at our one year old venue, just a few minutes away from our headquarters.
The address is Vierschaar 15, 's-Gravenzande, Netherlands.
During this special "Lily Week", other lily breeders and lily export companies are also opening their doors to you making this an exceptionally "lily" joint effort. Please click here for more details.
Venue location:
Van den Bos Flowerbulbs BV
Vierschaar 15 • 2691 MT 's-Gravenzande • The Netherlands
When:
Dutch Lily Days opens its doors from 4-7 June 2019. Our location will be open from at least 08.00 hours to 17.00 hours.