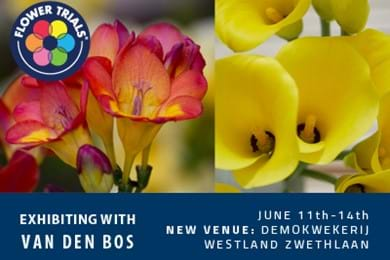 FlowerTrials® 2019 (June 11th-14th)
EXTEND YOUR STAY AND EXPERIENCE THE FLOWERTRIALS AS WELL
The week after the Dutch Lily Days the FlowerTrials® are taking place and Van den Bos is a proud participant (Flamingo Holland will be there as well). We will show our latest novelties of pot lilies, pot freesias and pot callas. We would love for you to stop by and share your ideas and needs with us.
This year we have a very special FlowerTrials® location in the Demokwekerij Westland Zwethlaan. During the FlowerTrials® week we will set-up a special presentation with our latest novelties. We will showcase our products together with Sakata and Queen Genetics, so three FlowerTrials® participants at one location.
During FlowerTrials® 2019 no fewer than 60 Pot and Bedding Plant breeders will proudly present their new innovations, creative concepts and an incredibly wide range of crop assortments. Please click here for more details.
Attendee Registration:
https://www.flowertrials.com/en/registration
New venue location:
Demokwekerij Westland Zwethlaan
Zwethlaan 52 • 2675 LB Honselersdijk • The Netherlands
When:
FlowerTrials® opens its doors from 11 - 14 June 2019. All locations will be open from at least 08.00 hours to 18.00 hours (Friday to 16.00 hours).