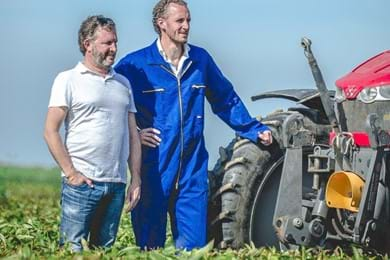 Van den Bos Flowerbulbs - full steam ahead to further growth
New Partner gets an education in the world of bulb farmers
Van den Bos Flowerbulbs want to remain the top flower bulb producer worldwide. The company needs to keep up the momentum to continue to develop and to go forward. This week we reached agreement with our new partner, Foreman Capital. Together we plan to set a course to new horizons. First of all the new partner had to be instructed on the ins-and-outs of what it takes to be a bulb producer, that isn't something that just comes naturally!

"The honorable title 'Flower bulb producer' is a title that has to be earned, not just a title on paper. If you want to be, and stay the best in the field, you need to feel passionate about the job," says Hans Kleijwegt, CEO, of Van den Bos Holding BV, at their head office in the Westland, Netherlands. "And so it came to pass that Sander van Woerden, partner at Foreman Capital, underwent a series of tests, during the last few weeks. This was all done in a lighthearted fashion." Hans, of course, couldn't let this milestone pass without keeping a record of Sander's progress. Click here to see the film.
New Possibilities, increased growth
Van den Bos have been active in the flower bulb sector for more than seventy years. "We are a solid company and we want to continue to grow so that we can keep supplying the best Lily, Freesia and Calla bulbs. Now, with the investment from Foreman Capital and the ways in which we are actively collaborating to develop new opportunities, we have set course to new and sunny horizons" says Hans. "Sadly, because of ill health we have had to bid farewell to our former shareholder, Hilbert Jonkman, who was involved with Van den Bos since 2002."Our sincere thanks go out to Hilbert for his continued support and dedication over the years."

Proud Global Market Leader
"Van den Bos is active in a sector where the Netherlands are global market leaders, a position of which our country can be justly proud, says Sander", who, on behalf of Foreman Capital will become majority shareholder at Van den Bos. "We are investing in a sound company with a solid plan and an excellent team. The personal connection with Hans and his team fired our enthusiasm, their dedication and passion for the business is what drives the company! With this level of commitment the profits will take care of themselves." Marlon Putter of Marktlink Fusies & Overnames seconds this opinion: "The ideal partner needs to have the right 'bulb-grower' DNA. Following an exhaustive selection process, Foreman Capital were deemed to be the perfect match for Van den Bos."
Full steam ahead to new, sunny horizons. Hans Kleijwegt (l) and Sander van Woerden
Van den Bos Flowerbulbs
Van den Bos Flowerbulbs is a specialist supplier of lilies, freesia's and calla's for professional flower and pot plant producers. They have been the go-to experts in storage, preparation, trade and export of flower bulbs for 70 years. To optimise customer service we are active in more than 60 countries worldwide with account managers per region and branches in the United States, Canada, China and Australia. For further information, see: www.vandenbos.com
Foreman Capital
Foreman Capital is an independent investment company established in 2005 and based in Amsterdam. As a 'solutions finding foreman', Foreman Enterprise Capital, offers expertise and access to a broad business network to facilitate sustainable growth for its participating companies. Foreman concentrates on proven, well managed, companies in North West Europe who are active in trade, business services and the creative industries. In contrast to traditional investment companies Foreman invests exclusively with its own capital, offering stakeholders synchronous advantages, flexibility and effectiveness. This approach is a perfect solution for entrepreneurs and family businesses. For more information, see: www.foremancapital.nl