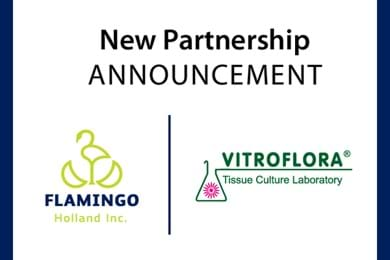 New Partnership Announcement: Flamingo Holland & Vitroflora
Flamingo Holland is proud to announce that they have entered a partnership with Vitroflora for marketing and sales of TC3 material in North America. With over 40 years of experience, Vitroflora is family owned (4th Generation), operates 13ha of greenhouse production and two production labs supplying over 100 million young plants a year servicing the European, Asian and US markets.
With the addition of Vitroflora to our existing portfolio of supplier partners, Flamingo Holland is positioned for continued growth to support our valued customers with some great genetics from some of the best breeders in the world. Flamingo Holland has been supplying flower bulbs and other starting plant material to the professional flower grower since 1984. Flamingo is a subsidiary of Van den Bos Flowerbulbs who has been in business for over 65 years.
"With this partnership we will be able to offer a wider assortment from multiple breeders where the material is produced at state of the art facilities to ensure the best quality for our clients". Noel Yan - Director of Perennials, Flamingo Holland