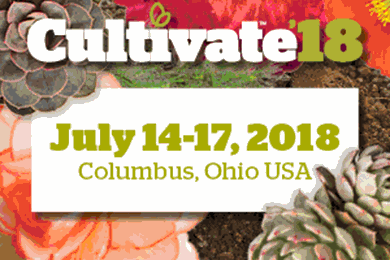 Flamingo Holland to showcase at Cultivate 2018
Between July 15 and 17, we will be at the Cultivate Show in Columbus, Ohio.
We look forward to seeing you at our booth #1225.

Cultivate is the leading trade show for horticulture in the Unites States and we are proud to be a part of this event. During the show we will be displaying some of our most popular and new varieties.

Senecio Angel Wings is a delightful new addition to our program. With its soft, silver foliage it is a standout in a combination or as a mono crop. This product is available as tissue culture or liner.

Heuchera Indian Summer series is a can't miss. Bred to be a sun tolerant heuchera this makes a perfect plant for growers, retailers and consumers who are short on shade locations. 

Our freesia nano series is remarkable with their genetically compact and short habit. Stop by our booth to see the newest combinations and colors.

Catch up on the latest calla genetics that Flamingo Holland has to offer. New this year is our Calla Ocho series. This exclusive line has some unique colors such as the distinct variety Bullit.

If you are looking for a WOW in your program, the Echinacea Sunseekers is the answer. Filled with vibrant flowers these strong, sturdy plants bloom uniformly and are compact. 

As always, the Flamingo Holland team will be on hand to give you a tour and answer questions.