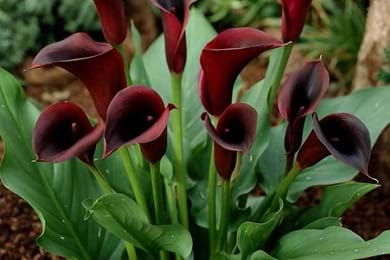 Calla Update - Crop 2017
We have had many people come to us lately to ask us what the latest is about Calla availability currently and also for 2018. As many of you know there has been some large changes in Calla supply and who the players are. With domestic production phasing out and production moved to Holland there are still many uncertainties and questions. One thing we know is that Flamingo has taken position early enough to purchase tubers crop 2017.
Dutch tubers are planted between February 1st and into January of the following year. Over the years we have fine tuned long storage, to do this correctly so that tuber get stored such that it loses little vigor over time. Important is humidity control, air movement and temperature in the room. This has resulted in little to no fall out during the season. We prefer to use the larger sizes for later plantings. So minimum size for fall plantings (Spring flowering) are 18/20 or size 20/22.
We know that a lot of growers are not working until next summer for spring 2019 needs. We expect supply to be limited next year so the earlier you can make your Spring flowering plans for Callas the more variety selections you can pick from.
The growing weather in Holland has been very nice. It was a slow start this season with a cool spring but June warmed up and it stayed warm for a while. This really gave the Callas a nice boost early and resulted in beautiful green lush plants in the fields. Currently it is pretty wet and fall has started. This week some more rain is predicted. The next few weeks we will conduct more field checks and see what the growth is as far as tuber size and quality. Stay tuned and check back with us for more updates!