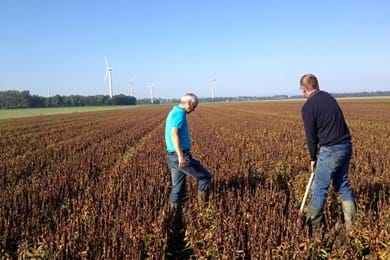 Lily Harvest 2019
At our parent company Van den Bos Flowerbulbs they have received a lot of lily bulbs from harvest 2019. The first bulbs that are lifted out of the ground are the Longiflorums in October. These are followed by the Asiatics and LA Hybrids. December is the month that we received the last of the LA Hybrids. The first Orientals lily bulbs came in later November. We see overall a good quality bulb.
Rooting is good, no fusarium, etc. What we do see is that there are differences in projected numbers so there are shortages in smaller bulb sizes but at times also the larger bulbs. This varies a lot per variety, but also the location of where they came from in Holland. Part to blame is the cooler spring and also fall started relatively early this year.
This results in a shorter growing season for crop 19 and so this explains these variations. We work very close with purchase managers at VDB and if we foresee a shortage we work at the same time on a good alternative. So even this harvest is not an easy one, we're excited about 2020 and will start delivering new crop next month to our customers in the US and worldwide. There are less bulbs available overall at this moment so if you are still looking for availability please reach out to us soon so we can update you!