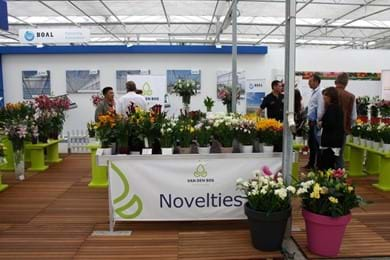 Dutch Lily Days & European Flower Trials 2019
9th Annual Dutch Lily Days, June 4-7, 2019
European Flower Trials, June 11-14, 2019
Please join us during Dutch Lily Days and European Flower Trials as our parent company, Van den Bos Flowerbulbs, presents the newest varieties in full bloom.
Van den Bos is well known as a market leader in flower bulbs worldwide. Specializing in Lilium, Freesia and Calla bulbs for the professional flower grower, innovation and quality is of upmost importance.
During Dutch Lily Days and European Flower trials there will be a wide assortment of cut and potted products including the newest introductions.
This year, we will feature a special display of the exclusive Roselily line showcasing both current and future selections. The Roselily series offers a unique double flower lily for both potted and cut producers.
Van den Bos is a worldwide company with locations in the Netherlands as well as USA, Canada, Chile, China and Australia.
Dutch Lily Days Location:
Van den Bos Flowerbulbs BV
Vierschaar 15
2670 AA Naaldwijk
The Netherlands
Tel. +31 (0)174 612 121
Info@vandenbos.nl
FlowerTrials location:
Demokwekerij Westland
Zwethlaan 52
2675 LB Honselersdijk
The Netherlands
Tel. +31 (0)174 612 121
For more information please visit:
Dutch Lily Day website at http://www.dutchlilydays.nl/
European Flower Trials website at http://www.flowertrials.com/