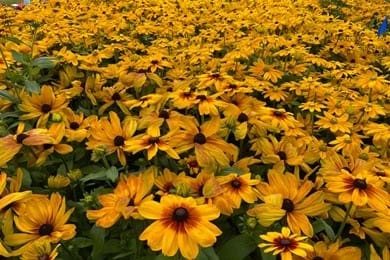 CSU 2021 "Best Of..." Winners!
The results are in and the 2021 "Best Of" winners have been chosen! The following represents half of the complete list of winners with photos. In order to keep the newsletter a more manageable size the photos and text of the second half of the list will be sent out in the October issue but the names will still be listed at the end of this newsletter for those who can't stand the suspense until next month! The complete list and photos will also be on our website hopefully early next week. Look for the 2021 "Top Performer" perennials in the November newsletter!
Best of Show – Rudbeckia 'Sunbeckia Ophelia' from Flamingo Holland/Bull
Gigantic yellow flowers glow in the sun and attracted attention from across the garden. The huge flowers create a near solid canopy of yellow color that creates enormous flower power. Foliage that is visible is very attractive and clean. Plants require no pinching and matures at a nice medium height. The long lasting flowers keep a fresh look and stay low maintenance by "burying its dead". Performance was excellent both in ground and containers.