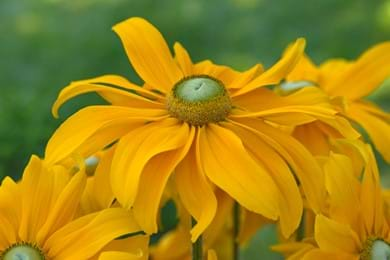 Rudbeckia Hirta - Sunbeckia
General Information
Rudbeckia Sunbeckia series is a hirta hybrid that was bred in Germany and is known for its large flower size and long-lasting blooms.It is available as tissue culture and is recommended to be produced in a 72 or 105 cell tray (app 5-6 week propagation time). It is also available as a liner.
Due to its strong vigor it has a short crop time of 8-10 weeks after transplanting. The Sunbeckia series Rudbeckia requires long day treatment. Without this period it is not advised to start transplanting prior to week 12. In addition to being a spring crop, we recommend continue transplanting in a 3 weeks rhythm. The start in week 18 till 26 results in perfect summer and fall production. A flowering 'Sunbeckia' has outstanding garden performance as well as great in a patio container.
Transplanting
Remove liner carefully from trays so as to not damage roots.
Plant liner even with soil line when transplanting.
Keep soil surface of liner level with surface of finished pot

Container Sizes and Crop Times
• Gallon/6" 1ppp. 8-10 weeks from transplant.
• 8": 1ppp. 10-11 weeks from transplant.
Growing Media
Plant into a well-drained soil mix with a pH range of 5.5-6.0. Soil moisture should contain coarse components for good drainage.
Temperature
Day temperature: 60-64ºF (15-18ºC)
Night Temperature: 50-55ºF (10-13ºC)
Vernalization is not require for flowering
Light
Long days (12 hours+) are required for flowering for Sunbeckia.
Water and Feed
Rudbeckia Sunbeckia should be grown using a well-balanced fertilizer (15-15-15 or similar) approximately once a week. Calcium nitrate can help with growth if plants are too small. 200-250 ppm N is recommended.
It is important to maintain consistent moisture in the soil. Overhead irrigation or drip irrigation is best.
Growth Regulators
PGR can be applied when the bottom shoots start to stretch. Also, later when the flower buds are visible and stems start to stretch.
B-Nine is beneficial and can be applied approximately 3-4 weeks after transplant.
If needed, Bonzi can be applied.
Pests and Diseases
Mites, Thrips and Aphids.
Botrytis, Pythium and Phytophthora.
Flamingo Holland cannot be liable for any loss of profit, growing result, or any other commercial damages resulting from the use of this guide. This guide is for information purposes only and are not warranted for content, accuracy, or performance overall.