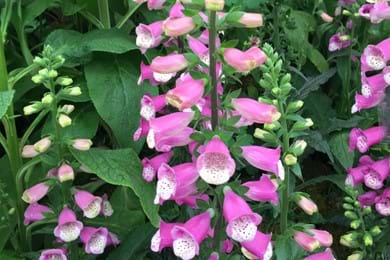 Digitalis Lucas
Transplanting
Remove liner carefully from trays so as not to damage roots. Plant liner even with soil line when transplanting.
Container Sizes and Crop Times
• Gallon/6" from vernalized 72-cell liner: 1ppp. 12-14 weeks after transplant.
• 8" from vernalized 72-cell liner: 1ppp. 16-18 weeks after transplant.
Growing Media
Plant into a well-drained media with a pH: 5.5-6.0.
Temperature
While bulking/rooting maintain temps between 65-73°. Do not allow temps to go below 60° during this time as it may cause premature budding.
Vernalization is recommended. Suggested four to six weeks of cool temperatures (38 to 45° F) to promote flower initiation. Digitalis can also be grown in the spring using vernalized liners. After vernalization, grow them with cool temperatures (50 to 60° F) and high light intensity.
The time to bloom after vernalization varies with the production temperatures, time of the year and day length. Planting vernalized liners in the winter (January to February) will take approximately 12 to 14 weeks to produce flowering plants when they are grown under natural light intensities. The number of weeks to finish a winter planting can be reduced to by app. 2 weeks by extending day length to 12 hours. Maintaining temperature of <60° F is key to producing compact, high quality floriferous plants.
Light
Growing under high humidity levels and/or photoperiodic lighting will lead to stem elongation.
Water and Feed
Digitalis Lucas should be grown using water soluble fertilizers with a constant liquid fertilization using rates of 100- to 125-ppm nitrogen with every irrigation or apply 250 ppm of nitrogen as needed. Controlled release fertilizers can also be incorporated into the growing mix prior to planting using the medium recommended rate, or the equivalent of providing approximately 1.0 to 1.2 pounds of elemental nitrogen per yard of growing mix.
It is important to maintain moisture level. Do not allow plants to completely dry down.
Growth Regulators
Plant size can often be maintained by providing adequate space between the plants and growing them on the cool side. When necessary spray applications of 10-ppm uniconazole (Concise or Sumagic) just as the flower spikes are beginning to elongate can be applied to effectively control plant height.
Insects and Diseases
Aphids, spider mites and Western flower thrips. Botrytis and crown/root rot may happen occasionally.
Preventive measures are typically not necessary as long as routine crop monitoring.
Flamingo Holland cannot be liable for any loss of profit, growing result, or any other commercial damages resulting from the use of this guide. This guide is for information purposes only and are not warranted for content, accuracy, or performance overall.